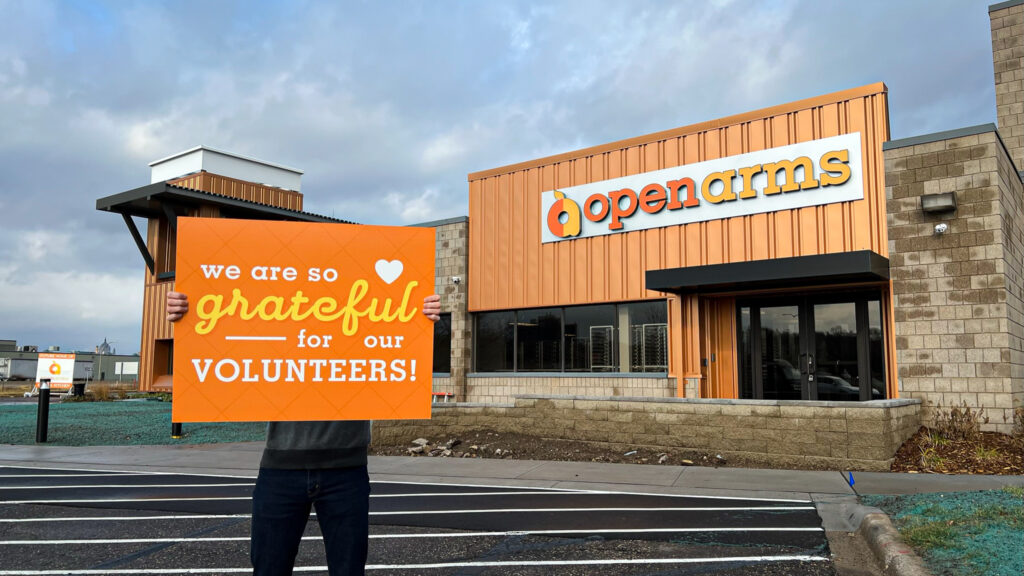 OPEN ARMS OPENS ITS DOORS AT A NEW SAINT PAUL LOCATION
The volunteer-driven nonprofit organization, founded in Minneapolis in 1986, has prepared and delivered over 10 million medically-tailored meals to community members with chronic medical conditions and is expanding to increase capacity and impact with a second location in Saint Paul.
Saint Paul, Min. (December 22, 2022) – It's a simple notion: people who are sick should not be without food. Yet, every day, our neighbors with life-threatening illnesses find themselves unable to shop or cook — and, often, without the support network to help.
Open Arms of Minnesota began as a single act of kindness in 1986. On January 3, 2023, the organization, which now has a staff of 75, will officially open its new St. Paul Kitchen and Campus at 380 E Lafayette Frontage Rd, St Paul, MN 55107, near the Saint Paul airport, in proximity to both downtown and the historic West Side of the capital city.
Leah Hébert Welles, CEO, shares, "Our clients face unimaginable challenges, and they are at the center of every single decision we make. Our team is constantly assessing how we can improve their experience and make their lives even just a little less stressful. The decision to add a full second kitchen and campus in St. Paul was made thoughtfully and carefully to meet a rapidly increasing demand for our medically tailored meals. We are excited and honored to expand to the East Metro and increase our service area. This new kitchen was constructed and funded by scores of committed, caring partners in our community."
Open Arms can now grow meal production and distribution by 30% by 2025, doubling its shipping program's capacity to produce 200,000 meals annually for clients living in Greater Minnesota and Western Wisconsin. Open Arms raised $6.8 million to bring this expansion to reality.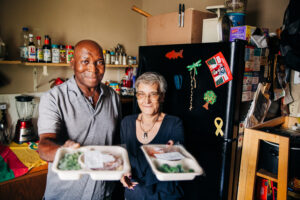 Volunteer sign-ups and online orientation are available now on their website, beginning with the first shift at the new state-of-the-art kitchen on January 3. There are many ways in which community members can volunteer with family, friends, and coworkers to help prepare, deliver, or ship healthy, scratch-cooked meals for clients, along with their families and/or caregivers.
Danielle Brady, Senior Director of Volunteer Engagement and Hospitality at Open Arms, says, "We cannot wait to connect with new friends in the St. Paul community. We've been so fortunate to have enthusiastic regular volunteers all these years, whether they come solo, as a group of co-workers, or as friends. We also have many engaged young people, service learners, student groups, and families." Brady adds, "We invite anyone age eight or older to join us in a really fun, fantastic, and rewarding experience. We are really counting on East Metro residents to help us start this new chapter in Saint Paul and help carry out our mission."
"Open Arms is essential to the lives of so many Minnesotans," said St. Paul Mayor Melvin Carter. "Their growth is encouraging, and we are thrilled to welcome such an impactful organization to our community."
The Saint Paul Area Chamber of Commerce will join Mayor Carter, along with local leaders, campaign supporters, Open Arms staff and board members, longtime donors, and volunteers for a Ribbon Cutting at the new Saint Paul Kitchen and Campus on Tuesday, January 10, 2023, at 9:45 AM to officially mark the launch. Additionally, the public is invited to attend an Open House Celebration on Saturday, February 4th, between 2 pm and 5 pm. The festivities will include tours of the new campus, hands-on activities, appetizers prepared in the new kitchen, and information about volunteering opportunities.
Members of the media are welcome to attend the Ribbon Cutting event on January 10th and/or the Open House on February 4th or request interviews at any time. (Media contact information is listed below.)
More information on Open Arms of Minnesota at www.openarmsmn.org.
###
Media contact:
Mary Quinn McCallum // [email protected] // 612.968.0558
Click the links below for more information on:
Additional information about the facility:
To serve this number of clients, Open Arms Saint Paul location includes more freezer space for meals and increased space for cooking, preparing and packing:
With the huge freezers, double the number of client meals (60,000!) can be stored in just one of their new St. Paul freezers.
Clients wishing to pick up their meals will have an additional ability via our new reception area in St. Paul.
Additional private client counseling room with Zoom meeting capacity
Very easy access to major highways to improve volunteer delivery driver experience.