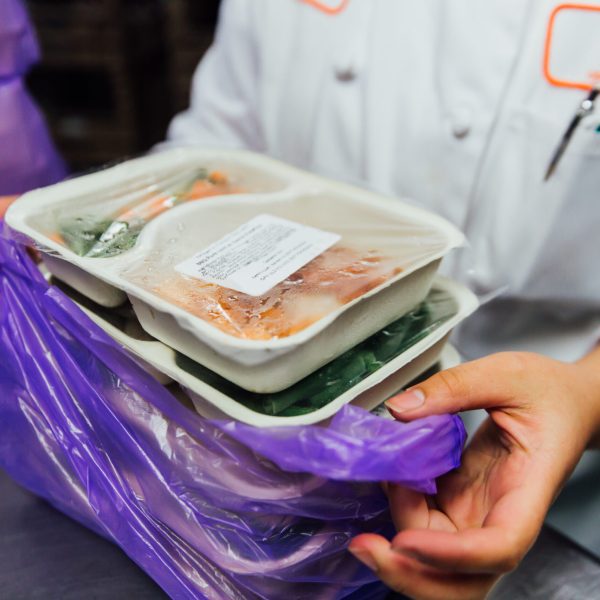 Open Arms of Minnesota is a nonprofit that prepares and delivers nutritious meals to Minnesota residents living with life-threatening illnesses. If you're living with HIV/AIDS, Cancer, Amyotrophic Lateral Sclerosis (ALS), Multiple Sclerosis (MS), End Stage Renal Disease (ESRD), Congestive Heart Failure (CHF), and/or Chronic Obstructive Pulmonary Disease (COPD), and would benefit from food assistance, Open Arms may be able to provide you delicious, convenient, healthy meals — all free of charge.
Our registered dietitians work with our chefs to create delicious, medically tailored menus using fresh ingredients instead of heavily processed food. The meals are prepared in our state-of-the-art kitchens, with organic produce from our very own Open Farms program when possible.
Learn more about our services and how you can start receiving meals below.

If you or someone you know has one of the above diagnoses and is interested in receiving meals, please submit an application by selecting the Submit Application icon below. We will review the application and reach out to confirm eligibility. If eligible for our services, our Client Services Team and Nutrition Team will work to tailor meals to your specific needs, with a loving community of volunteers delivering meals straight to your home every week.
These meals are making a huge difference for us. Not having to prepare, research ingredients, serve, wash dishes and clean up after meals has given us more time to spend together. We now have time to sit outside every day and to play a few games of cribbage on our porch. We are breathing easier and relaxing more. I can't thank you enough!
caregiver for a client with cancer & CHF

Medically
Tailored Meals
Our registered dietitians guide our trained chefs in developing delicious, made-from-scratch meals tailored to specific illnesses.
Convenient
Home Deliveries
With the help of our volunteer drivers, we deliver a week's worth of meals at a time, allowing clients to focus on healing and spending more time with loved ones.
Nutrition
Support
Our Nutrition Team is always available for our clients. They provide each client a nutritional assessment and offer free nutrition counseling & education services.​
HEALTHY
Ingredients
We use fresh, local, and organic ingredients whenever possible—most of it prepared in-house and some of it grown ourselves at one of our five
Open Farms
locations.
Care for
Clients & FAmiLy
Meals are delivered not only to our clients, but also to dependents and caregivers. Income is not a qualifier for our services, and we operate on models of abundance, community, & social responsibility.
Community of Kindness & Love
Everything we do relies on our incredible community of supporters and volunteers, who ensure that our meals are always prepared and delivered with love.

To qualify for our meals, a person is typically diagnosed with one of our primary illnesses (HIV/AIDS, Cancer, ALS, MS, COPD, CHF, or ESRD). Health care professionals and case managers can refer people by following these steps:
Complete Application
with Client*
*One section MUST be signed by a provider with access to client medical records to verify medical status.