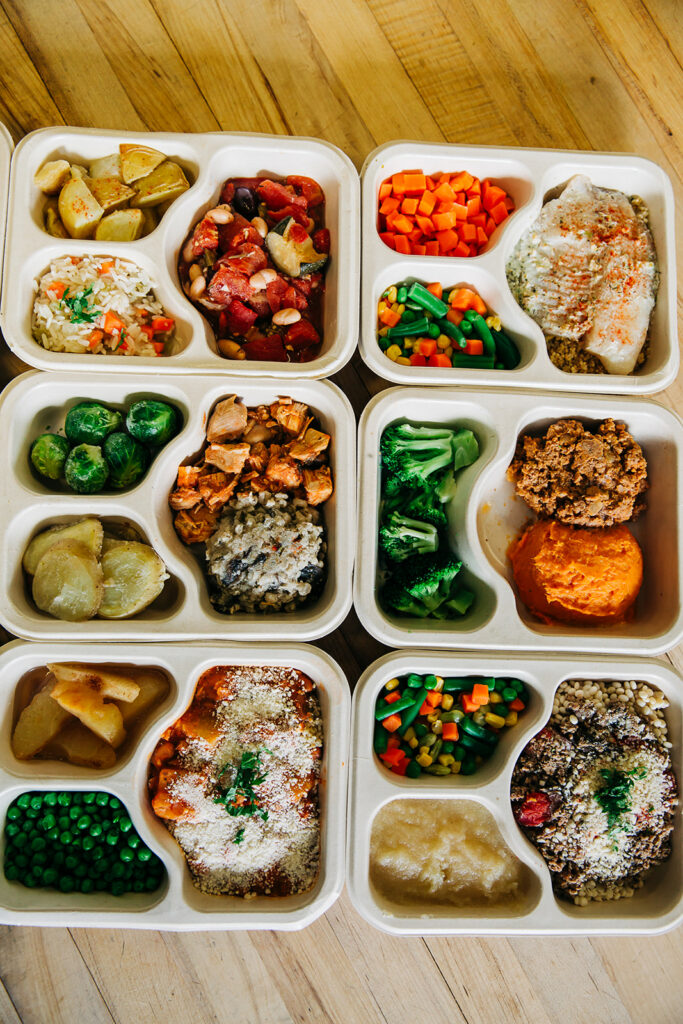 Open Arms offers delicious meal options to meet individual dietary needs. Our team of registered dietitians work with our chefs to design delicious, medically tailored menus using fresh ingredients instead of heavily processed food. The meals are prepared in our state-of-the-art kitchen, with beautiful, organic veggies from our very own Open Farms program when possible.
We also deliver the food right to your doorstep. Meals are delivered to clients' homes once a week by volunteer or staff delivery drivers—all at no cost to the client. We can even include meals for others in the household, such as caregivers and dependent children.
Learn more about our medically tailored meals below, and contact our Nutrition Team at 612-872-1152 or [email protected] with any questions.
Our Medically Tailored Menus
Open Arms offers several options to help meet the nutrition needs of our clients. Meals are delivered to clients' homes once a week by volunteers or staff. Each meal delivery consists of approximately 12–14 meals, or 60% of clients' dietary needs for the week. Deliveries include:
LUNCH (7 entrées): Four frozen entrées, fresh sandwich kit (makes two sandwiches), one entrée size salad, five servings of fresh fruit, and four servings of dessert (unless client opts out of dessert)
DINNER (7 entrées): Seven frozen entrées
As you read through our medically tailored menus below, keep in mind that they are all diabetes-friendly, feature controlled amounts of salt & saturated fats, and can be made suitable for those who have trouble chewing/swallowing and require a puréed diet.

The standard heart-healthy menu is low in salt and saturated fats, and supports a range of health needs. It features animal proteins such as turkey, beef, chicken and fish. Examples: Lasagna + carrots, Roasted chicken + rice pilaf & green beans
The kidney-friendly menu is tailored to clients on hemodialysis. These meals are high in protein and contain low/moderate amounts of potassium, phosphorus, and sodium. Examples: Chicken stir fry + rice, Lemon herb fish + quinoa & carrots
This menu is for clients experiencing taste changes.  The meals are low in spice and acid. Examples: Buttered noodles + peas & carrots, Meatloaf + mashed potatoes & broccoli
The vegetarian menu is for those who do not eat meat, poultry, or fish. Some items may contain dairy or eggs. Examples: Quinoa sauté + edamame, Tofu stir fry + brown rice
This menu is for clients who avoid gluten and dairy in their diets due to allergies or intolerances. Please note: Open Arms is not an allergen-free facility. Examples: Chickpea masala + brown rice & edamame, Herb chicken + wild rice pilaf & peas
This menu includes entrees that are blended to a pureed texture. It is appropriate for clients who have dysphagia, missing teeth/poorly fitting dentures, or pain with chewing/swallowing. Please note: the pureed diet is not a formally approved IDDSI diet.