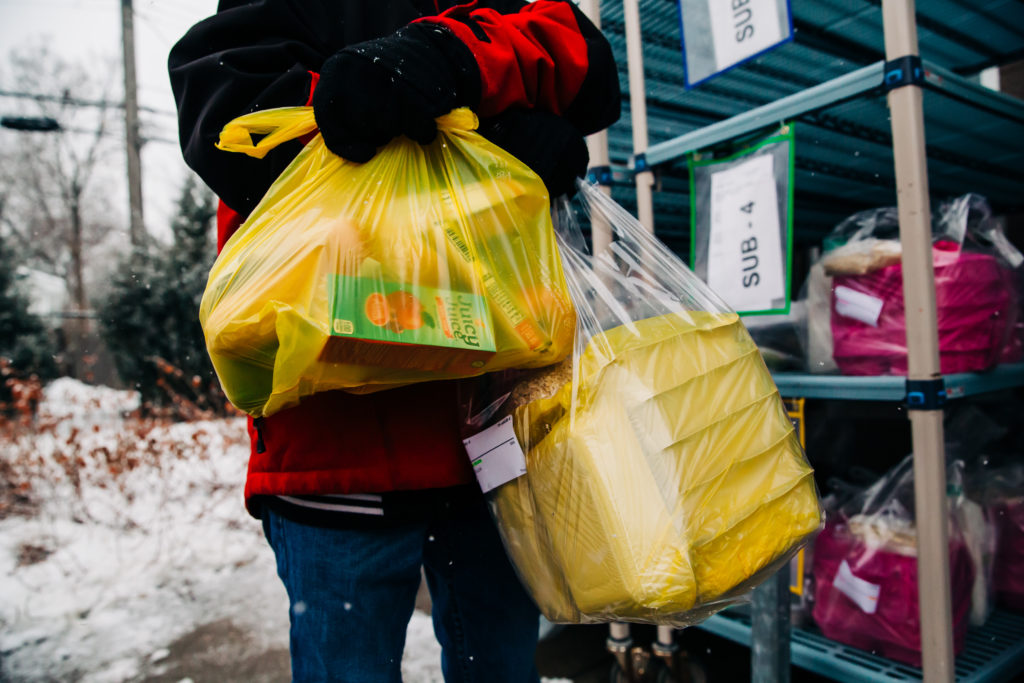 There are many meaningful ways to make donations to Open Arms. If the kitchen is the heart of what we do, it is supported by many other organs, which rely on a steady supply of such things as paper, garden gloves and coffee to keep them going! Supply donations help ensure our funding can go directly to our programs, providing nutrition and technical assistance to people who are ill.
You can help by making a donation or organizing a donation drive with your office, place of worship, school, club or sports team. Donation drives for herbal ginger tea or veggie seeds are a great way to come together as a group and help make a difference.
To make a donation or start a drive, contact us at [email protected] or 612-677-2562.
Here are some of the items we need on a regular basis:
Olive Oil: This is a staple in the Open Arms kitchen. The preferred donation is a 50/50 blend of unflavored Extra Virgin olive oil and canola oil. Our chefs do not have a brand preference.
Liquid Nutritional Supplements: Many of our clients struggle with malnutrition and other side effects that lead to reduced calorie intake, such as decreased appetite and nausea/vomiting. Although we focus on providing our clients with whole foods, we understand the importance of supplementation when necessary. Liquid nutritional supplements, such as Ensure and Boost, are an excellent option for our clients with a compromised nutritional status. We will accept Ensure/Boost donations of any variety and flavor.
Additionally, we accept donations of liquid nutritional supplements that are formulated for specific medical needs, such as Nepro, Nepro with Carb Steady, NovaSource Renal, and Re/Gen. We will also accept Glucerna.
*Please Note: Consistent donations of liquid nutritional supplements are preferred so that we can send them to clients on a regular basis.
Mrs. Dash Spice/Seasoning Blends: Heart disease and heart health risk factors are some of the most common comorbidities that our clients face. For this reason, the amount of sodium in our meals is limited. We add flavor to our meals in other ways, such as using salt-free herbs and spices. Mrs. Dash Spice/Seasoning Blends are free of added salt, sugar, and monosodium glutamate (MSG) and we enjoy having these on hand to send to clients who want to add some extra flavor to the meals they receive from us. We will accept 2.5 oz containers of Mrs. Dash in any flavor. Original Blend, Garlic & Herb Seasoning Blend, Table Blend, and Lemon Pepper Seasoning Blend are preferred but not required.  
Kitchen Tools
The following are kitchen tools and appliances that some of our clients need:
Can openers
Storage containers
Microwaves
Blenders
Food safety tools: separate cutting boards, thermometers, etc.
Open Farms Supplies:
Sturdy baskets/buckets/bins
Gloves
Stakes, tomato cages, and ties for tomatoes and peppers
Straw bales
Bags of leaves (we'll make them into compost!)
Organic, non-GMO vegetable and flower seeds
Cover crop seed
Burlap sacks
Rain barrels
Plant tags/labels
Sprinkler heads
Capital Equipment:
Ice Machine
Electric-Powered Pallet Jack
Please keep in mind that our menus are medically tailored to the specific needs of our clients. Medically tailored meals are delivered to individuals living with severe illness through a referral from a medical professional or healthcare plan. Meal plans are tailored to the medical needs of the recipient by a Registered Dietitian Nutritionist (RDN), and are designed to improve health outcomes, lower cost of care and increase patient satisfaction. Because of this, we can only accept items that fit into our medically tailored menus. 
Thank you for your support in donating healthy food products to Open Arms!  Please know that you are making a difference in the lives of our clients. If you have questions about whether or not an item is acceptable to donate, please contact the Food Services Director, Stanley Hadiwibowo, at [email protected].