Watch our livestream cooking event on demand!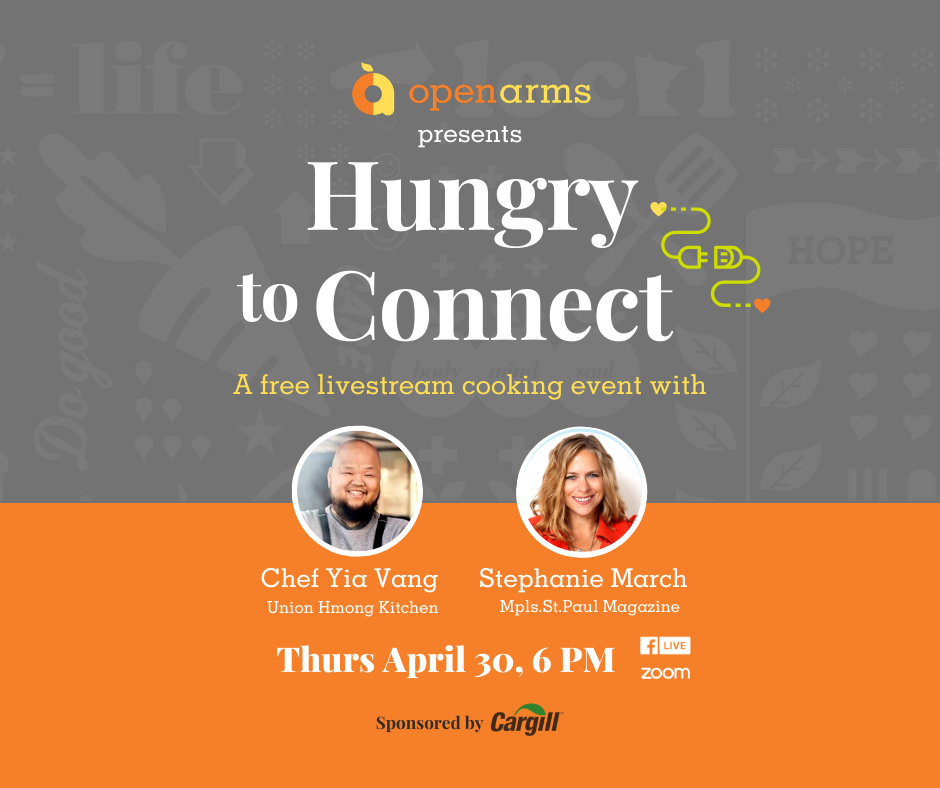 If you missed our first-ever livestream cooking event with our friends Chef Yia Vang (Union Hmong Kitchen) and host Stephanie March (Mpls.St.Paul Magazine), then you're in luck! The video is now on demand, and we have the full recipe for you too. Thanks to those of you who joined and offered your gracious support!
To watch the full event on demand and view the complete recipe, go here.
Open Arms' Response to COVID-19
Like everyone in our community, we too at Open Arms are experiencing the dramatic impact of the COVID-19 outbreak. From changing our daily operations to canceling fundraisers to altering our delivery methods, everything is changing. But please rest assured that we are closely following official guidelines (from the CDC and the MN Department of Health) and state/federal recommendations and orders, all in order to continue our primary mission: to cook and deliver free, healthy meals to our clients in need.
Key points:
Open Arms is considered an "essential" business and is part of the Twin Cities' critical sector response to COVID-19. With this understanding, we can and will continue to operate and deliver meals to our clients with life-threatening illnesses and compromised immune systems.
We are taking all precautionary measures to ensure the safety of our community, which includes our clients, volunteers, staff, and more.
We have received many emails and phone calls from the Open Arms' community asking how they can help our clients during the pandemic. The best way to help at the moment is to donate. Your donations will ensure that we can continue providing emergency bags of shelf-stable food for our clients and their families, delivering medically-tailored meals to the increasing number of clients who need our help, and stocking our supplies so we can be there for our clients when they need us most.
To read our full statement on COVID-19, please go here.