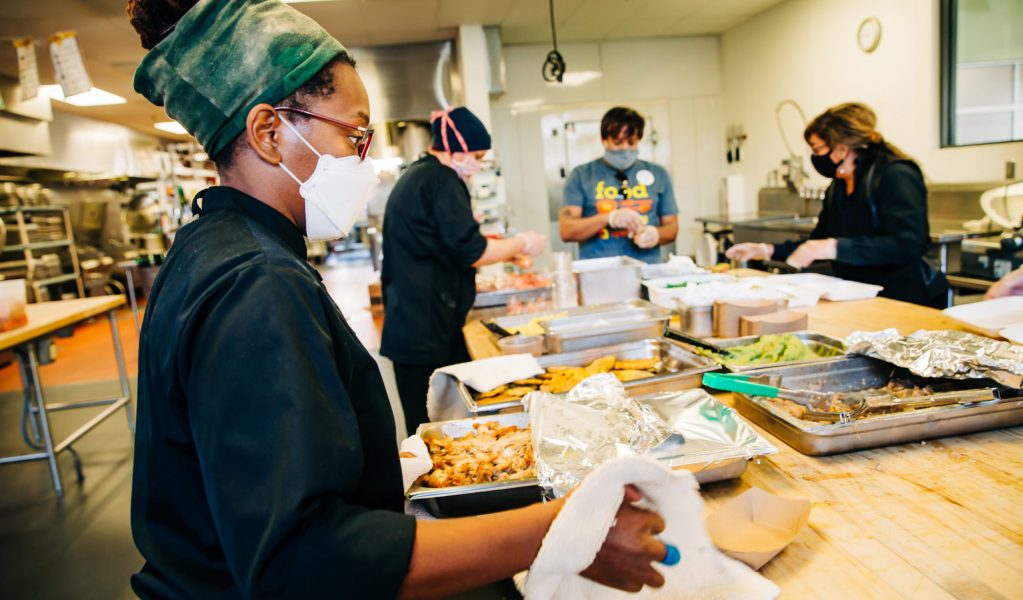 Below are answers to common questions about our service. If you have further inquiries, please contact one of our Client Services associates at 612-872-1152.
Who do you deliver food to?
We serve people living with cancer, HIV/AIDS, MS (multiple sclerosis), ALS (Lou Gehrig's disease), COPD (chronic obstructive pulmonary disease), CHF (congestive heart failure) and ESRD (end-stage renal disease).
How much does your service cost?
All of our services are free of charge. We are funded through a number of sources — including individual donations, foundations, corporations, and public funds — so we can deliver all of our meals without any cost to our clients.
How do I start getting meals from Open Arms?
Visit our Get Meals page to learn about our meals, check your eligibility, and submit an application.
What is the delivery area?
Our delivery area is within the 694/494 loop around the Twin Cities metro area. If you live outside the delivery area and are interested in receiving meals, you may arrange to pick up your meals at our office or have them delivered to an alternate address.
Our volunteer delivery drivers will deliver your food once a week, always on the same day of the week. Your delivery will arrive between 11 a.m. and 2 p.m.
Yes, someone needs to be home to receive the food during the delivery window. It could be a family member or friend — we just need to give to food to a person to maintain food safety.
What if I have a doctor's appointment during my regular delivery time?
If you have a doctor's appointment during your meal delivery time, please call us to let us know as far in advance as possible. You may choose to cancel your meals for that week or to pick them up at our office. If you aren't home for a delivery and we don't hear from you, we will assume that you no longer need our delivery service.
What if I have a food allergy/diet restriction/swallowing problem?
We are happy to work with you to find a solution to your specific diet needs and offer several menus to choose from. If you have an allergy to certain foods, most often we will be able to accommodate. However, we are not a wheat- and nut-free facility and cannot guarantee that your meals will not come into brief contact with wheat and nut products. If you would like to discuss your diet needs, call 612-872-1152 and ask to speak with our Nutrition department.
Will you deliver on holidays?
We deliver Monday through Friday all year round, with a few exceptions. There are no regular deliveries on:
New Year's Day (January 1)
Memorial Day (last Monday in May)
Juneteenth (June 19)
Independence Day (July 4)
Labor Day (first Monday in September)
Thanksgiving Day and the day after Thanksgiving (fourth Thursday and Friday of November)
Christmas Day (December 25)
On days when there will be no regular deliveries because of a holiday, we will reschedule with all of the clients of that delivery day. Additionally, Open Arms helps our clients celebrate Thanksgiving with a special meal. (Note: We do not have a special meal for Christmas or any other holiday.)
Will you deliver if there is a snowstorm?
Minnesota weather can be unpredictable. Even though the volunteers at Open Arms are committed to making sure our clients get their meals, sometimes we are unable to deliver. On such occasions, we will reschedule with all of the clients of that delivery day.
Open Arms follows the policy of the Minneapolis Public School system, which closes only in cases of extreme cold and wind chill, and when driving conditions are hazardous. To get information about when the schools close, tune into WCCO TV (Channel 4) or WCCO AM (830 AM) or visit the district's website.
Can I get meals for my kids, partner or caregiver?
We realize that a life-threatening illness affects not only you, but your entire family. Open Arms can provide additional meals for your children and caregivers.
We are happy to answer any additional questions you may have. Please call 612-767-7333 and ask to speak with one of our Client Services associates.