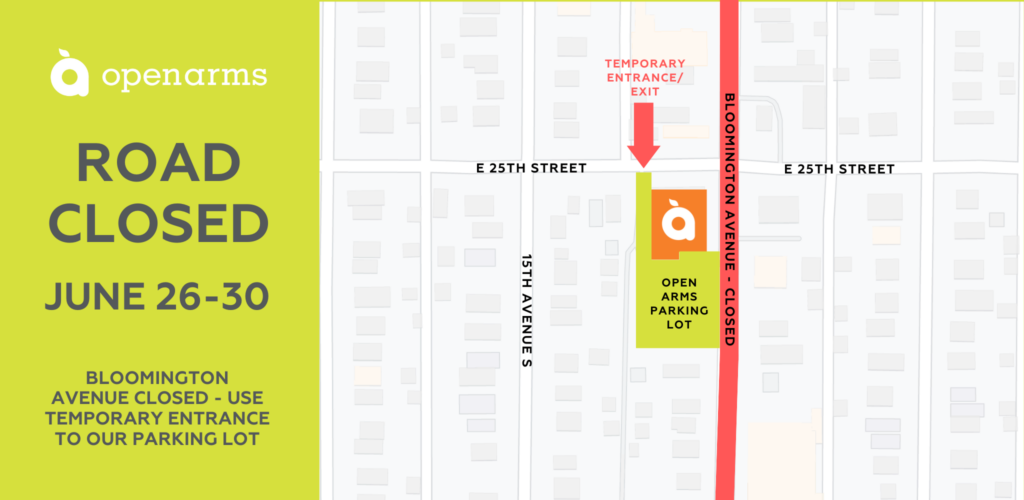 Open Arms Shows that Creative Partnerships Create Successful Adjustments in Response to Summer Road Closures
FOR IMMEDIATE RELEASE
Contact:
Ethan Armstrong
[email protected]
Cell: 320-815-2351
MINNEAPOLIS, MN (June 25, 2023) — The city of Minneapolis informed Open Arms of Minnesota last week that Bloomington Avenue will be closed for resurfacing from June 26 to June 30. 2500 Bloomington Avenue serves as the only public access point to Open Arms' parking lot, this project will cause significant disruptions to our operations throughout the week. Thankfully, St. Joan of Arc Minneapolis has stepped up to save the day.  
Julie Madden, Director of Peace and Justice at St. Joan of Arc, expressed her support for Open Arms, stating, "We wholeheartedly believe in what Open Arms does for the community. They are a treasured presence in our neighborhood, and we want to ensure that their services remain uninterrupted during this construction project." 
Although client meal prep and packaging will continue in our 2500 building throughout the week, we cannot deliver meals from our Minneapolis facility due to the construction on Bloomington Ave. Instead, all meals will be transported to St. Joan of Arc Church (4537 3rd Ave. S) in Minneapolis on Monday, Tuesday, and Wednesday morning. Volunteer delivery drivers have been notified to meet at the St. Joan of Arc parking lot to carry out client meal deliveries. 
"We can't thank St. Joan of Arc enough for their kindness in response to this unexpected disruption to our operations," said Leah Hebert Welles. "Their kindness is an example of the power of our community to not only be there for each other, but to help get meals to clients with life threatening and critical illnesses who really need them."   
To summarize, Open Arms has made the following adjustments: 
Client meal

deliveries

will

NOT

be handled out of the Minneapolis Kitchen & Campus throughout the entire week of June 26-30

 

Client meal deliveries

will

take place from the parking lot of St. Joan of Arc (4537 3rd Ave. S) in Minneapolis, starting at 12 p.m. on Monday, Tuesday, and Wednesday.

 

The Minneapolis kitchen will continue its operations as usual, with client meal packaging occurring throughout the week.

 

We understand that the closure of Bloomington Ave may pose challenges for some volunteers. However, we still require volunteer delivery drivers and kitchen support. If you are able and willing to help this week, please sign up for a shift at:

https://openarmsmn.volunteerhub.com

. Volunteer delivery drivers will receive a detailed email and phone call regarding the upcoming adjustments.

 
For volunteer-related inquiries, please contact [email protected]. For general information or questions about our operations this week, please email [email protected].