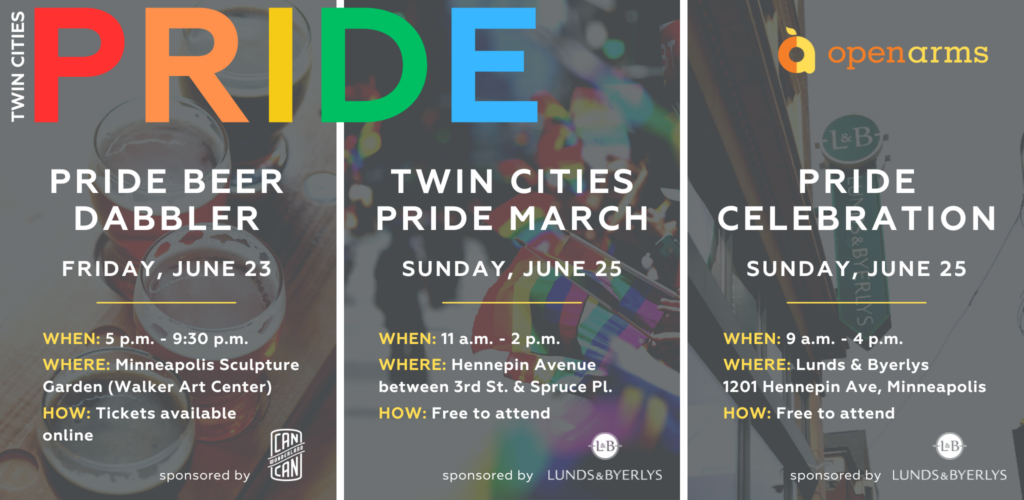 Open Arms gears up for a Busy Pride weekend!
June has arrived, marking the start of Pride Month—a significant occasion for Open Arms and our entire community. Our organization began during the HIV/AIDS crisis and together with all of you we have built on that foundation. Our connection to the LGBTQ+ community is deep and it is our honor to participate in Pride month in our kitchens, via the Pride parade and festival, and by showing our support and partnership every single day. In 1986, we began our journey by providing made from scratch meals for people affected by HIV/AIDS. Today, we take immense pride in our inclusive approach, welcoming individuals from diverse backgrounds who join us in the mission to nourish our neighbors in need. We express gratitude to our community members who wholeheartedly embrace their true selves and we stand as allies for our LGBTQ+ friends. As we celebrate Pride month, we also cherish and honor the memories of those we have lost. 
Please be sure to check out our online shop, where we have some new Pride-themed merch available for purchase with all the proceeds benefitting our clients. Click HERE to see the store! Happy Pride Month from all of us at Open Arms of Minnesota!
Pride Weekend Agenda: 
Pride Beer Dabbler 2023
Join us at Pride Beer Dabbler 2023! Open Arms will have a booth (Booth #81) with Can Can Wonderland in the Minneapolis Sculpture Garden as a part of the Pride Beer Dabbler being held on Friday, June 23 from 5-9:30 p.m. Stop by, say hi, play games, win prizes!
Date: Friday, June 23
Time: 5-9:30 p.m.
Event Location: Minneapolis Sculpture Garden (Walker Art Center – 725 Vineland Pl, Minneapolis 55403)
Booth Information: Open Arms Booth #81
Travel Information: https://tcpride.org/transportation-parking/
Twin Cities LGBTQ+ Pride March Honoring Ashley Rukes
Be on the lookout for Open Arms and Lunds & Byerlys marching in the Twin Cities LGBTQ+ Pride March Honoring Ashley Rukes on Sunday, June 25 beginning at 11 a.m.
Date: Sunday, June 25
Time: 11 a.m. – 2 p.m.
Parade Route: Starts at 3rd & Hennepin and proceeds down Hennepin to Spruce
Pride Celebration With Lunds & Byerlys
Open Arms will join Lunds & Byerlys for a Pride celebration with a booth at Lunds & Byerlys Downtown Minneapolis on Sunday, June 25 from 9 a.m. – 4 p.m. Stop by for music, food, vendors, games, giveaways, and lots of fun!
Date: Sunday, June 25
Time: 9 a.m. – 4 p.m.  
Location: Lunds & Byerlys Downtown Minneapolis (1201 Hennepin Ave, Minneapolis, MN 55403)
Parking: Parking will be available at the MCTC Lot with additional parking on back streets