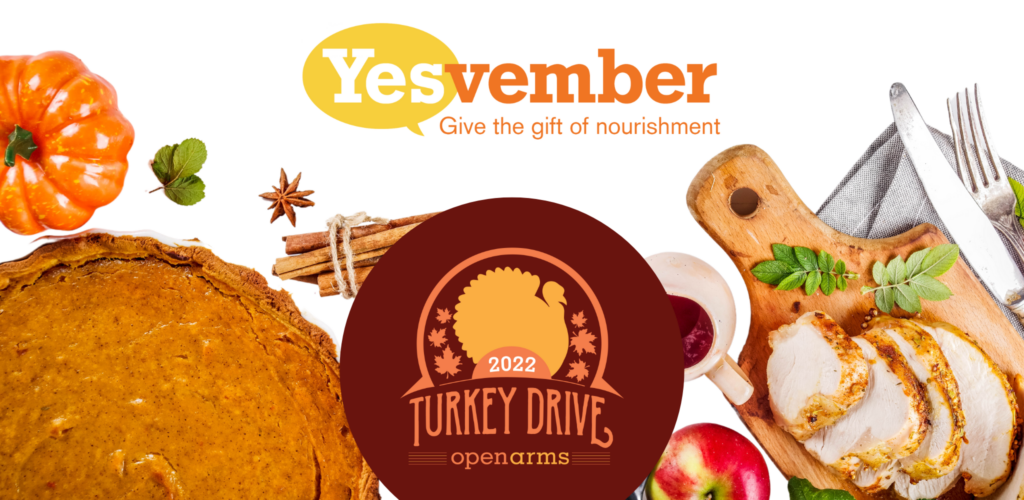 Here's everything you need to know about Yesvember 2022 at Open Arms!
November is a magical month for Open Arms of Minnesota. Since 2015, Open Arms has turned NOvember into YESvember for all our clients across Minnesota. We are not only preparing and delivering medically tailored meals to our critically ill neighbors, but we're also cooking Thanksgiving feasts, packaging delicious holiday treats, and working extra hard alongside our incredible volunteers to meet the increased number of meal requests throughout the holiday season. It's a busy time, but it's our favorite time of year too! There is always indescribable energy mixed with the smell of home-cooked meals permeating our South Minneapolis building.
For this year's Turkey Drive, our signature program within YESvember, our goal is to raise $115,000 in order to make Thanksgiving meals available for our 1,400+ primary clients and their loved ones.
Everything you will need to know about YESvember can be found via the below links.
If you have any questions about YESvember and/or Turkey Drive, please email [email protected]. If you're intersted in volunteering, please follow the link below. Thank you!