Meet the Open Arms team
---
Leah Hébert Welles, Chief Executive Officer
Leah began leading Open Arms in 2013 after 20 years of leadership positions at several nonprofit health care organizations. Leah's work attests to her deep commitment to community health and access to resources for underserved and vulnerable populations. Leah has served on a variety of boards of directors and community coalitions, and currently serves on the steering committees for both the Minnesota Cancer Alliance and the Minnesota Hunger Initiative.
April K Bogard, Senior Director of Programs, MPH, RS/REHS
April has 20 years of experience working in food safety and public health as a health inspector, epidemiologist, and food safety inspection program supervisor. She served as an epidemiologist with the Minnesota Department of Health and the Hawaii Department of Health, specializing in foodborne disease investigation, research and prevention. April is a registered Environmental Health Specialist/Sanitarian (REHS/RS) and holds an MPH from the University of Hawaii at Manoa.
Danielle Brady, Senior Director of Volunteer Engagement and Hospitality
Danielle brings over 20 years of experience working alongside volunteers and almost 15 years leading a volunteer engagement department. As a certified trainer for the Minnesota Association of Volunteer Administration, she leads trainings throughout the metro area and state on volunteer engagement best practices, poverty, privilege and bridging gaps of understanding between differences. She is passionate about diversity and inclusion and is a Qualifying Administrator of the Intercultural Development Inventory®. As someone who is registered to teach integrative yoga therapy, she firmly believes in Open Arms' mission to nurture mind, body and soul.
Cristina Cintron Rolon, Senior Director of Human Resources, JD
Cristina has a Bachelors in Philosophy and a Juris Doctor. Most of her career has been focused on risk management, reducing organizational liability, building processes to ensure efficient operations, and supporting leadership teams through creative problem solving.   As a trained mediator, Cristina has been supporting leadership teams build stronger and healthier relationships with team members and reconcile interests to promote positivity and an effective performing environment.  Cristina brings to the team a strategic and practical approach to organizational changes and the challenges that come with it.
Lisa Lane, Senior Director of External Affairs
Lisa Lane has worked in the nonprofit sector since 1997, primarily in social and human services. She has held a variety of roles including development, community relations, communications and program development. Lisa served as the Development Director & VP of Resource Development for the Jewish Community Relations Council, Neighborhood House and Hennepin Theatre Trust; as the Foundation Director for The Phillips Eye Institute; and as Director of Advancement for United Family Medicine. She received her B.A. in Journalism from the University of Iowa.
Noah Barton, Interim Food Services Director
Noah has over 25 years of experience working in kitchens around the country. Noah earned an Associate's Degree in Culinary Arts from Johnson & Wales University in Providence, RI and has a Bachelor's in Marketing from The College of St. Scholastica in Duluth. He also carries certifications as an Executive Chef from the American Culinary Federation (ACF) and as a Dietary Manager from the Association of Nutrition & Foodservice Professionals (ANFP). Noah is passionate about the nutritional value of whole, fresh foods and the impact that eating well can have on health.
Kathryn Southard, Director of Development
Kathryn has worked in the nonprofit sector for more than a decade. During this time, she held a variety of roles in program management and development for public health-focused organizations. Most recently, she served as the Director of Institutional Giving at Planned Parenthood of Illinois. With a passion for ensuring access to quality care, she came to Open Arms to help connect donors and supporters to its meaningful mission. Kathryn received her MPH from the Colorado School of Public Health.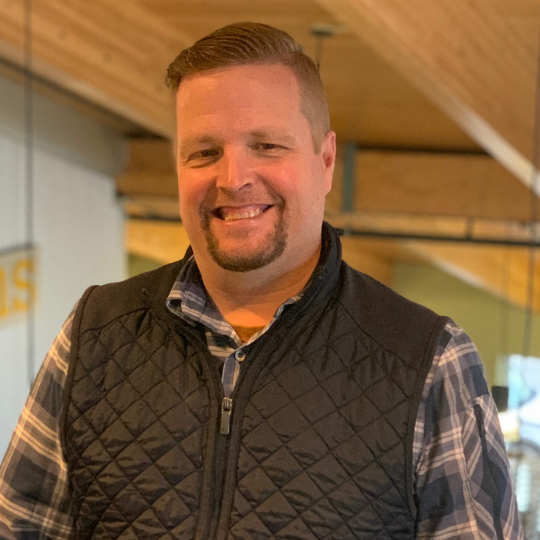 Kevin Douglas, Director of Operations
Kevin has over 25 years of experience working in the human service field to include leadership positions at several mental health organizations. He served as a special education teacher, specializing in students with emotional and/or behavioral disorders. Kevin has also been the Director of Operations for other nonprofits and is passionate about serving clients in the community and providing them nutritious meals. Kevin has a B.A. in Sociology/Criminology and a Master's in Special Education.
Andrew Mendez, Director of Client Services
Across the last 10 years, Andrew has held various management positions in Behavioral Healthcare. Most recently, he was the Chief Operating Officer of a 3-state, 150-bed outpatient addiction treatment center for 3 years. Andrew has also served as a consultant for a number of behavioral healthcare facilities, with a focus on client programming and advocacy. Andrew himself is also a survivor of Soft Tissue Cell Sarcoma and is deeply passionate about helping improve the lives of those whose suffer with any illness. Andrew relocated from Florida to Minnesota in October of 2020 with the hopes of beginning work within the nonprofit sector to help those most in need.
Charles J Abrahamson, Director of Strategic Partnerships, MBA
Charles joined Open Arms in 2021. He has a BA from St. Olaf College and a MBA from the University of St. Thomas. He brings over 30 years of health care leadership experience to his role at Open Arms, specifically focusing on enhancing existing partnerships and developing new collaborative partnerships. Charles' broad and creative background and his experience in developing value based partnership agreements which support clients and the people served by these agreements reflect his commitment to supporting the health of individuals and the community.
---
All full- and part-time staff:
Abbey Dibble, Logistics & Delivery Manager
Amy Morton, Dishwasher
Andy Ramcharan, Dishwasher
Angela Mrema, Client Services Associate
Anna Irmiter, Client & Community Outreach Manager
Ashley Sain, Referral & Recertification Associate
Austin Lane, Volunteer Engagement Coordinator
Austin Stahl, Baker & Volunteer Ambassador
Channing Bendtsen, Client Services Associate
Christopher Buchel, Chef & Volunteer Ambassador
Cincere Burns, Client Services Associate
Dayna Adams, Contract Manager & Reporting Specialist
Deandra Bieneman, Individual Giving Manager
Dominiq Marvin, Security Receptionist Coordinator
Emily Szeliga, Client Advocate
Esther Young, Farm Assistant
Gabby Keys, Volunteer Engagement Coordinator
Jake Christensen, Registered Dietitian, MS, RD, LD
Jenny Burr, Office & Admin Coordinator
Jenny L. Castillo, HR Coordinator
Jian Smith, Chef & Volunteer Ambassador
Joann Cho Oudekerk, Interim Managing Chef
John Oprea, Baker & Volunteer Ambassador
Jonathan K. Hoffmann, Delivery Driver & Logistics Associate
Kal Moftah, Logistics & Shipping Coordinator
Kalley Hakes, Registered Dietitian, RD, LD
Kari Goodwin, Interim Bakery Manager
Kelly Wilson, Open Farms Manager
Kevin Coughenour, Chef & Volunteer Ambassador
Kristen Barlow, Volunteer Engagement and Delivery/Satellite Coordinator
Kyle Kvamme, Communications Coordinator
LaKandis Neal, Client Services Database Coordinator
Maggie Craig, Executive & HR Assistant
Maria Johnson, Catering Chef
Marvin Lin, Communications Manager
Megan White, Institutional Relations Officer
Merit Thursday, Delivery Driver & Logistics Associate
Michael Marcotte, Events Manager
Michael McKay, Volunteer & Community Engagement Lead
Rachel Jambois, Registered Dietitian, RD, LD
Riley Egan, Donor Experience Coordinator
Russell D. Lowe, Chef & Volunteer Ambassador
Ryan Cochran, Building & Grounds Supervisor
Sam Ruiz-Zavala, Client Services Intake Associate
Sarah Cohen, Dietetic Technician
Vinh Vu, Chef & Volunteer Ambassador
---
Kitchen of Opportunities staff:
These Open Arms staff members work at an off-site commercial kitchen managed by OAM.
Andrea Weber, Interim Lead Chef & Volunteer Ambassador
Antoine Simon, Chef & Volunteer Ambassador
Bjorn Semkow, Kitchen Assistant
Desiree Johnson, Lead Kitchen Assistant
Jaime Sierra, Chef & Volunteer Ambassador
JoEllen Brenny, Kitchen Assistant
Kenneth Thornton, Kitchen Assistant
Lucia Campoverde, Chef & Volunteer Ambassador
Nataniel Rayman, Interim Managing Chef
Tony Lusian, Kitchen Assistant
---
Would you like to support the work that our staff does nourishing people in our community?
Make a donation in their honor>>