Last night, we hosted our first-ever livestream cooking event, Hungry to Connect, with our friends Chef Yia Vang (Union Hmong Kitchen) and host Stephanie March (Mpls.St.Paul Magazine). During the event, Chef Yia taught us how to cook his delicious Fried Instant Ramen meal, streamed live from the Cargill Community Kitchen here at Open Arms. Stephanie served as the lovable host, with important messages from our executive director Leah Hébert Welles.
Thanks to those of you who joined and offered your gracious support!
In case you missed it — or just can't get enough of Yia and Stephanie — you can watch the full video here:
Be sure to also fill out the Google Form mentioned during the event to enter the Hungry to Connect sweepstakes. You have until May 8 for a chance to win either (1) a Limo Night Out courtesy of Renee's Limousines, with food from St. Paul's Handsome Hog and drinks from Tattersall Distilling/Sociable Cider Werks), (2) a dinner with Chef Yia at his own Union Hmong Kitchen, or (3) a $100 gift card from Target (Who doesn't need more toilet paper?).
Don't like watching videos but still enjoy cooking yummy meals? You're in luck! Chef Yia has shared the full recipe for his Fried Instant Ramen meal, posted below in both graphic and text form for your convenience.
Thanks to everyone for the fun event. We had a blast, and it was so great to virtually connect with you all! <3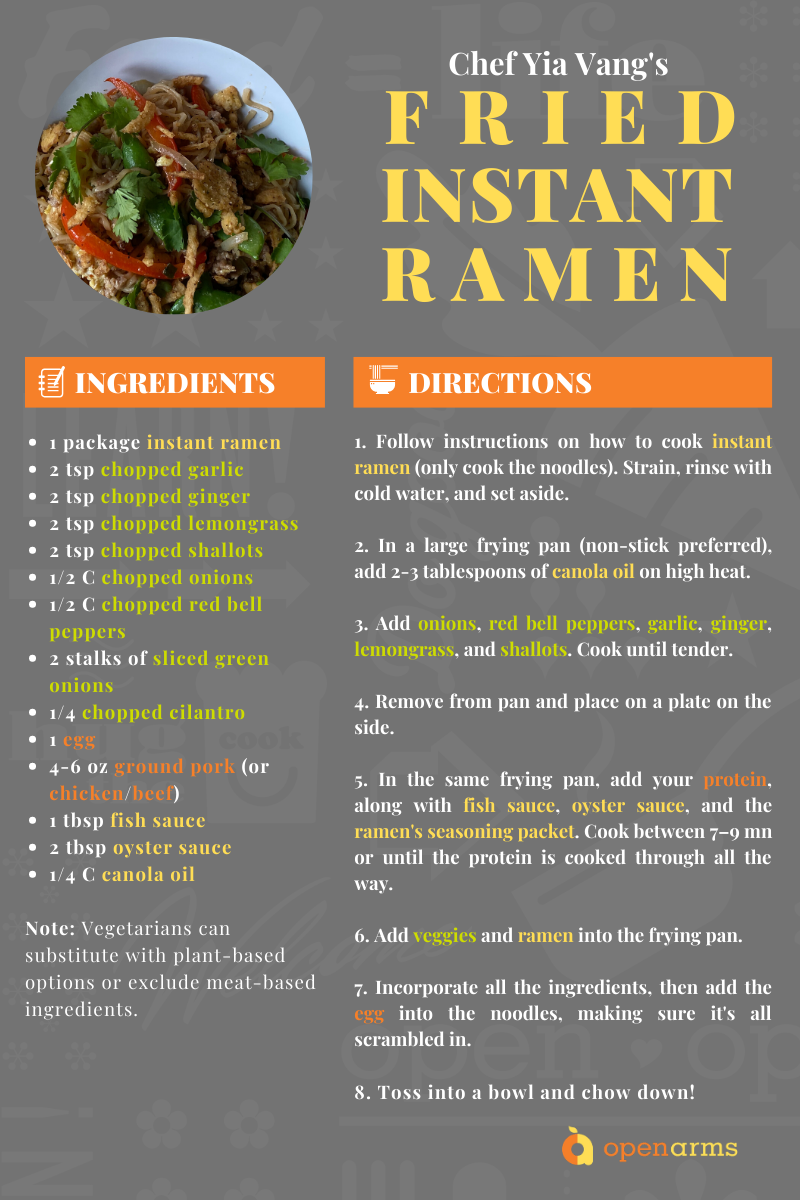 Click the image for a larger version of the recipe
Chef Yia Vang's Fried Instant Ramen Recipe:
Ingredients:
• 1 package instant ramen
• 2 tsp chopped garlic
• 2 tsp chopped ginger
• 2 tsp chopped lemongrass
• 2 tsp chopped shallots
• 1/2 C chopped onions
• 1/2 C chopped red bell peppers
• 2 stalks of sliced green onions
• 1/4 chopped cilantro
• 1 egg
• 4-6 oz ground pork (or chicken/beef)
• 1 tbsp fish sauce
• 2 tbsp oyster sauce
• 1/4 C canola oil
* Vegetarian version can be prepared by substituting with plant-based options or excluding meat-based ingredients.
Directions:
1. Follow instructions on how to cook instant ramen (only cook the noodles). Strain, rinse with cold water, and set aside.
2. In a large frying pan (non-stick preferred), add 2-3 tablespoons of canola oil on high heat.
3. Add onions, red bell peppers, garlic, ginger, lemongrass, and shallots. Cook until tender.
4. Remove from pan and place on a plate on the side.
5. In the same frying pan, add your protein, along with fish sauce, oyster sauce, and the ramen's seasoning packet. Cook between 7–9 mn or until the protein is cooked through all the way.
6. Add veggies and ramen into the frying pan.
7. Incorporate all the ingredients, then add the egg into the noodles, making sure it's all scrambled in.
8. Toss into a bowl and chow down!