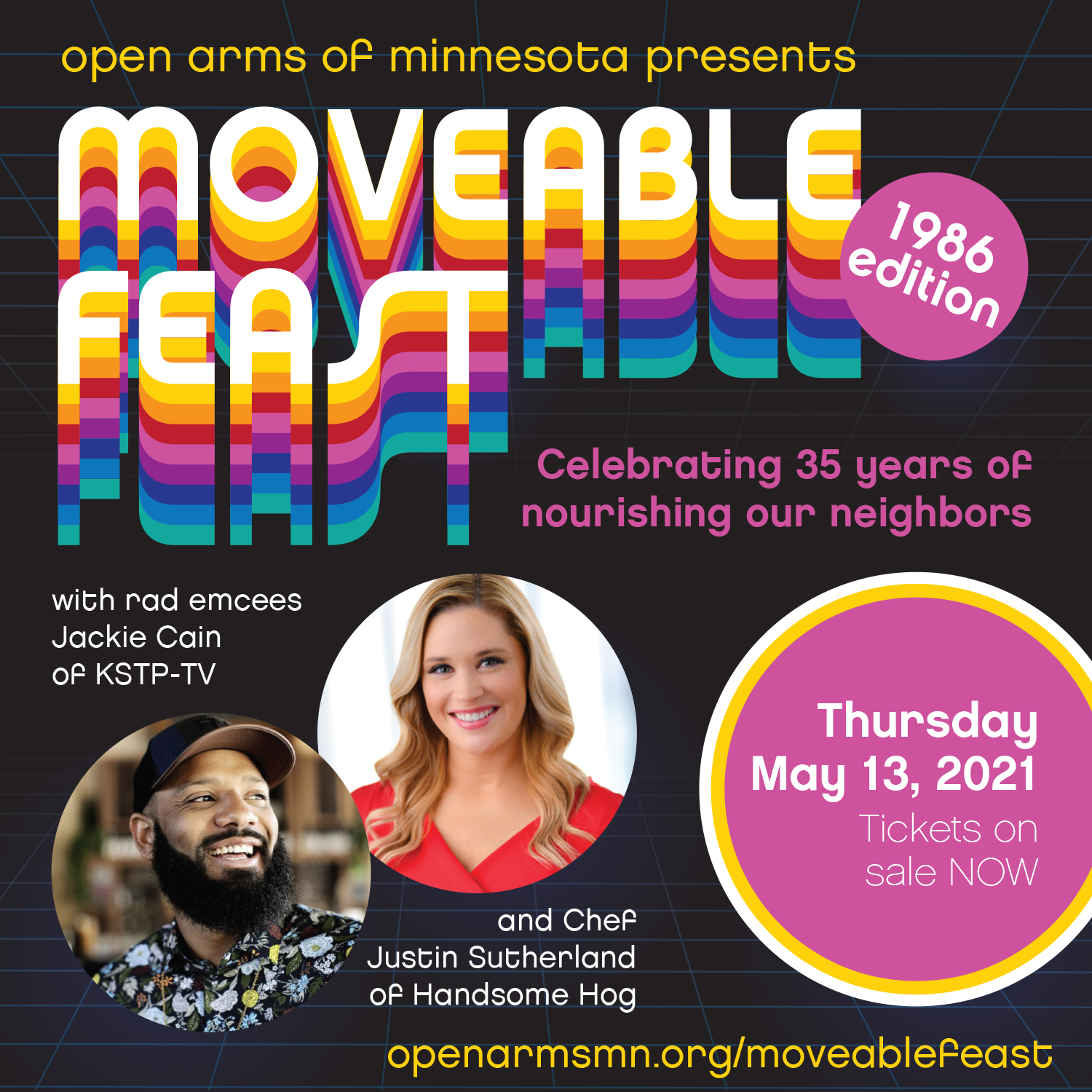 We are stoked that our annual fundraiser Moveable Feast is back on May 13 at 7:30 pm, and we want you to know all the ways you can participate in the raddest, 80s-themed event of 2021! Why 1980s? Because it was in 1986, 35 years ago, when we first delivered nourishing meals to our neighbors with life-threatening illnesses. While we won't be able to celebrate in person at Moveable Feast like we have in the past, our incredible restaurant partners and Open Arms chefs are working hard this year to provide an unforgettable feast for you to enjoy while watching a special virtual program.
To ensure you get the best Moveable Feast experience possible, your first step is to choose your dinner from over 20 partners. There are three dining options this year: Restaurant To Go, Open Arms Dinner To Go, and Food Truck Experience. Meal kits from the Restaurant To Go and Open Arms Dinner To Go dining options serve two people (available for pickup or delivery), while the Food Truck Experience provides a dinner for ten, with the restaurant parked right in your driveway or outside your office!
Both the Restaurant To Go and Food Truck Experience are available on a first-come, first-served basis. We recommend registering early to ensure you get the meal of your choice — no noshing allowed! Only delicious meals prepared by some of the best restaurants and food trucks in the Twin Cities metro area, including Animales Barbecue, Bacio, Brasa, Hai Hai, Hazelwood Food + Drink Bloomington, joan's in the Park, Justin Sutherland, Keep It Grand, Spoon and Stable, TERZO, The Anchor Fish and Chips, Bapmobile from Bap and Chicken, Butcher Salt, El Burrito Mercado on Wheels, Gastrotruck, Holman's Table & Rock Elm Tavern, Little Blue Food Truck, Market Bar-B-Que, Parlour Bar, Pizzeria 201, Rusty Taco, and World Street Kitchen & Milkjam Creamery!
In addition to the unique dining options, we are also hosting a virtual program that is FREE to watch and anyone can register! The program, emceed by Jackie Cain (anchor at 5 Eyewitness News) and Chef Justin Sutherland (Handsome Hog, TV personality), will show how Open Arms has pivoted and thrived in the past year, nourishing more critically ill neighbors than ever before.
Register for #MoveableFeast21 and select your feast at openarmsmn.org/moveablefeast. While you're there, learn more about this year's event in the About section and check out the FAQ if you have any questions. We hope you'll join us for Moveable Feast 2021 and celebrate 35 years of nourishing our neighbors!