March is recognized as National Nutrition Month (NNM), and we are celebrating all month on social media and our website! Each week, we will share profiles from our incredible Nutrition Team. They are Open Arms' food and health experts, and they play a critical role in our mission by creating and approving ALL medically tailored recipes for Open Arms' meals, as well as providing nutritional counseling and education directly to clients with life-threatening illnesses.
This week's spotlight is on Rachel Jambois, Registered Dietitian!
---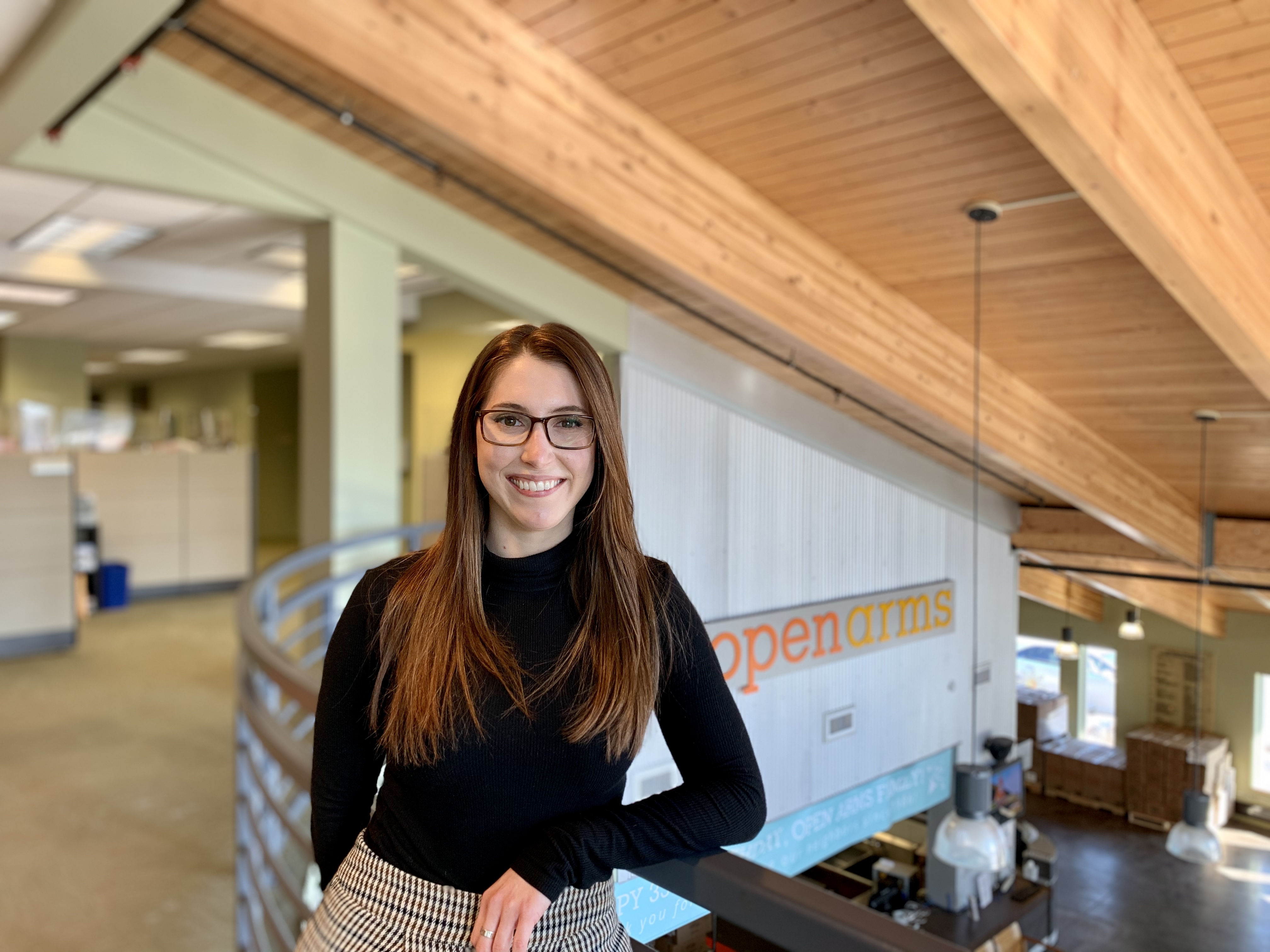 Credentials/Titles/How long you have been with Open Arms:
I am a registered and licensed dietitian in the state of Minnesota. I have been with Open Arms for just over two years!
Education background:
I attended Minnesota State University, Mankato for my undergraduate degree in dietetics. Following graduation, I was accepted into the Aramark Distance Dietetic Internship program in 2017. I completed this program at Maple Grove Hospital in Maple Grove, MN and North Memorial Health Hospital in Robbinsdale, MN.
Why did you decide you wanted to become an RD/DTR?
I always knew I saw a future for myself in the world of food, but didn't discover the option of becoming a dietitian until my first year of university. I was required to take an entry-level nutrition course for my then decided major, kinesiology. I found that dietetics was the perfect blend of health sciences and my love of all things food!
Provide a brief description of your career path:
Following the completion of my dietetic internship program, I accepted a position as a clinical dietitian. In my role at the hospital, I oversaw the adult patient population, providing medical nutrition therapy, nutrition education, and nutrition support for patients with a variety of illnesses. I was also able to provide support to the food services department.
What does your role look like at Open Arms?
My current role focuses around menu development and nutrition analysis for our medically tailored menus. I work directly with the chefs and ood services director to analyze recipes and appropriately place them on each of our medically tailored menus. Once a recipe is approved and makes its way onto our menu rotation, I receive further feedback from chefs and clients over time to ensure we are continuously improving our medically tailored meals!
What do you love about what you do:
What I love most about my role at Open Arms is directly serving the Twin Cities community that I live in. It is the perfect blend of my passion for good food, healthy nutrition, and helping others.
What do you think is the future of nutrition and dietetics?
The future of nutrition and dietetics is redefining what it means to "eat healthy." I see the field focusing not just on the from-the-textbook nutrition recommendations, but thinking about food and nutrition holistically and how these recommendations can fit into each individual's unique lifestyle.