March is recognized as National Nutrition Month (NNM), and we are celebrating all month on social media and our website! Each week, we will share profiles from our incredible Nutrition Team. They are Open Arms' food and health experts, and they play a critical role in our mission by creating and approving ALL medically tailored recipes for Open Arms' meals, as well as providing nutritional counseling and education directly to clients with life-threatening illnesses.
This week's spotlight is on Kalley Hakes, Registered Dietitian!
---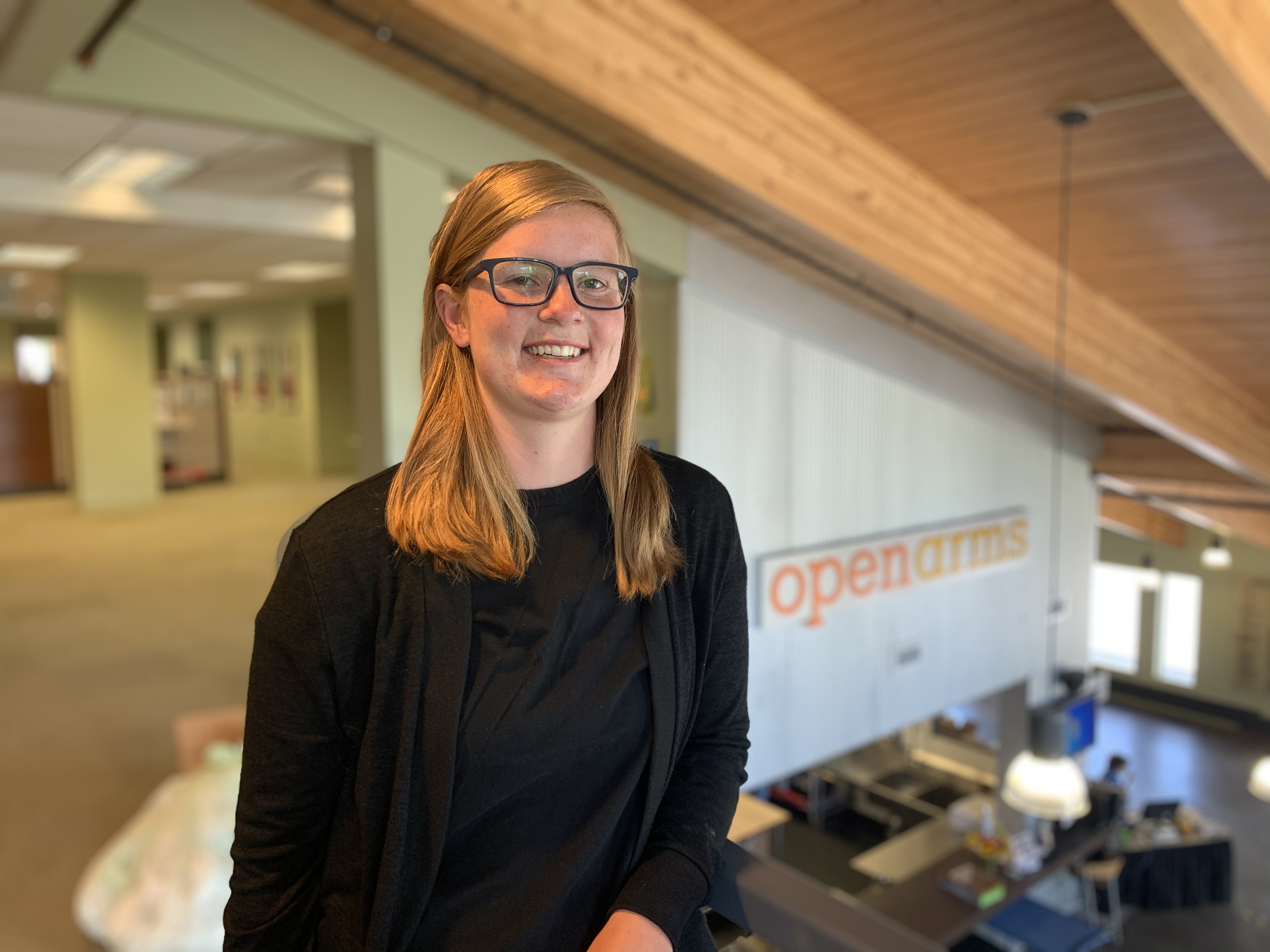 I'm Kalley, one of Open Arms' registered dietitians, here to tell you a little about my background and my current position!
Provide a brief description of your education background and career path:
Back when I started college, I was not entirely sure what I wanted my future to look like, but I knew I wanted to help others in some way. I had always been interested in how food can affect one's health, so I took a couple of nutrition classes and educated myself on what a dietitian was and realized that would be a great fit.
Iowa State University was my home for 4.5 years, where I completed my bachelor's of dietetics and a dietetic internship, which is required before you are able to sit for the national dietitian exam. The internship gave me an opportunity to learn from a variety of dietitians in many different settings. The program I completed included four weeks of community hours in Ghana, Africa! I was with other dietetics students from around the United States along with a few Ghanaian interns. While there, we performed nutrition assessments on both children and adults, and relayed our findings to the community members. My time in Ghana also gave me the opportunity to immerse myself in a culture different from my own, try different foods (my favorite was peanut soup!), and get to know people from many different backgrounds!
After completing my schooling in Iowa, I moved back to my home state of Minnesota to pursue my career as a dietitian. I landed my first job at Hy-Vee, where I was able to help individuals in a variety of different ways through nutrition counseling, cooking classes, cholesterol and A1C screenings, health fairs, grocery store tours and more. After moving on from Hy-Vee, I was fortunate enough to find myself on the Nutrition Team here at Open Arms, where I started as a registered dietitian in July 2020.
Why did you decide you wanted to become an RD/DTR?
The mission and core values of Open Arms compelled me to apply, and the impact we are making in the community is what drives me to be the best I can be in my role.
What does your role look like at Open Arms?
I currently work with our HIV clients, providing nutrition education and counseling over the phone for that client population. Working with dietetic interns and our summer meals program are other aspects of my role.
What do you love about what you do:
Talking with clients and helping them reach their nutrition and health goals continues to be what I love most about my job.
What do you think is the future of nutrition and dietetics?
The Nutrition and Dietetics field is continuing to grow, and I am excited to see it continue to grow and expand in the coming years. Right now, hospital jobs still dominate the majority of dietitian opportunities, but as more people and organizations learn how nutrition can be used as a form of medicine, I see dietitians being present in more community settings. Open Arms is a unique setting for dietitian's to work, which is one of the many reasons I love working here!