March is recognized as National Nutrition Month (NNM), and we are celebrating all month on social media and our website! Each week, we will share profiles from our incredible Nutrition Team. They are Open Arms' food and health experts, and they play a critical role in our mission by creating and approving ALL medically tailored recipes for Open Arms' meals, as well as providing nutritional counseling and education directly to clients with life-threatening illnesses.
This week's spotlight is on Jake Christensen, Registered Dietitian!
---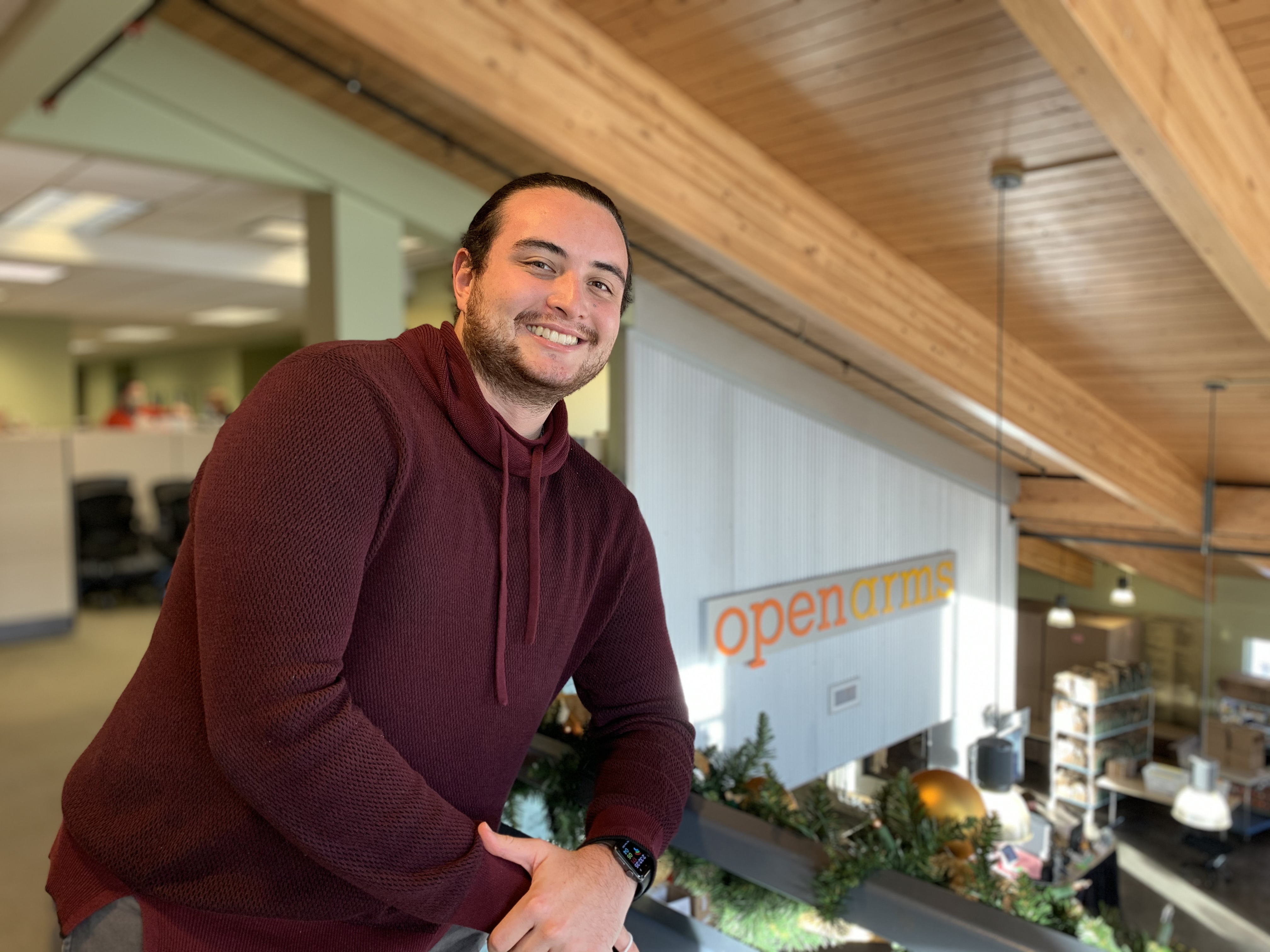 Credentials/Titles/How long you have been with Open Arms:
Hello, everyone! My name is Jacob Christensen, MS, RD, LD (he, his, and him), and I have been a registered dietitian at Open Arms since December 2020. The theme of National Nutrition Month this year is "personalize your plate," and this goes hand in hand with the career path of an RD. There is no straight-and-narrow path in becoming an RD, and mine was nothing short of a winding road.
Description of your career path:
I graduated from Saint John's University (MN) with a Bachelor's of Arts in Nutrition (dietetic emphasis) in 2017. Right out of college, I started working in the food and nutrition department at Regions Hospital as a Call Center Associate. After a few months, I moved into a new role as a Nutrition Service Representative and got hired internally as a Clinical Dietetic Technician. I worked in both these roles for little over a year until I applied for a dietetic internship in the fall of 2018. I was fortunate to get "matched" with Keiser University's distance MSDI program based out of Fort Lauderdale, FL. This was considered an accelerated, coordinated program. In simple terms, I was going to be doing my dietetic internship (1360 hours of supervised hours) and obtain a Master's degree in one year. A distance program meant that I would do all my schooling and internship in the area I currently resided in, which was MN.
Throughout 2019, I was a full-time student and dietetic intern. I continued to work at Regions Hospital as a Clinical Dietetic Technician every other Saturday as well. I graduated in January 2020 and passed my boards in May. From there I became a part-time clinical RD at Regions Hospital for half a year.
Finding a full-time RD job is very difficult for new RDs, and I was actively searching day after day for a job. I had countless interviews, and finally one day I saw that there was a job opening as an RD at Open Arms. Open Arms had a special meaning to me, since OAM was my very first dietetic internship rotation. With other job offers available at the time for me, I decided to take the risk and pursue the job at OAM. Do I need to tell the rest of the story? Thankfully, no. I was ecstatic to start at OAM and haven't looked back since.
Why did you decide you wanted to become an RD?
Becoming an RD wasn't on the radar until midway through college (sad to admit it, but I didn't even know what an RD was until I was 20—oops). As a student who had zero clue on what to do as an adult, the chair of the nutrition department told me to pursue a dietetics degree. Two reasons: lack of males in the field and because I had a unique personality (Was that a compliment? We may never know). I wanted to become a dietitian to change lives. I want to be present every step of the way and to be that support system a client or patient needs on the good days and bad. Nutrition is an evidenced-based science and changes every day. Being that outlet for individuals has been a blessing for me (and hopefully for the people I have worked with). Food is a mandatory biological requirement for human life, and I get the luxury to talk about food each and every day. Life is good.
What does your role look like at Open Arms? What do you love about what you do?
At OAM, my primary job responsibility is our nutrition counseling program. I am the RD for every diagnosis we serve aside from our HIV/AIDS population. The RD conducts an initial nutrition assessment to get to know the client better and from there continue to do follow-ups until the client is ready to work on nutrition and health goals on their own. I also work on various projects, help precept dietetic interns, and love talking to everyone! I love this job because I get to be a part of our clients' journeys. Witnessing clients progress through life, making big or small nutrition/health changes, and seeing the outcomes is an invaluable part of being a RD.
What do you think is the future of nutrition and dietetics?
These next few years are going to be crucial for RDs, which makes the future intriguing to say the least. There is a lot that still needs to be done in the world of dietetics in order to allow dietitians to practice at the top of their scope. We are the nutrition experts, and people often get confused on who to go to for nutrition advice. After I am settled into the profession, I want to be an advocate for our profession and continue to advocate for a spot at the healthcare professional's table.