March is recognized as National Nutrition Month (NNM), and we are celebrating all month on social media and our website! Each week, we will share profiles from our incredible Nutrition Team. They are Open Arms' food and health experts, and they play a critical role in our mission by creating and approving ALL medically tailored recipes for Open Arms' meals, as well as providing nutritional counseling and education directly to clients with life-threatening illnesses.
We're kicking things off with a spotlight on Brianna Tobritzhofer, Director of Nutrition Services! 
---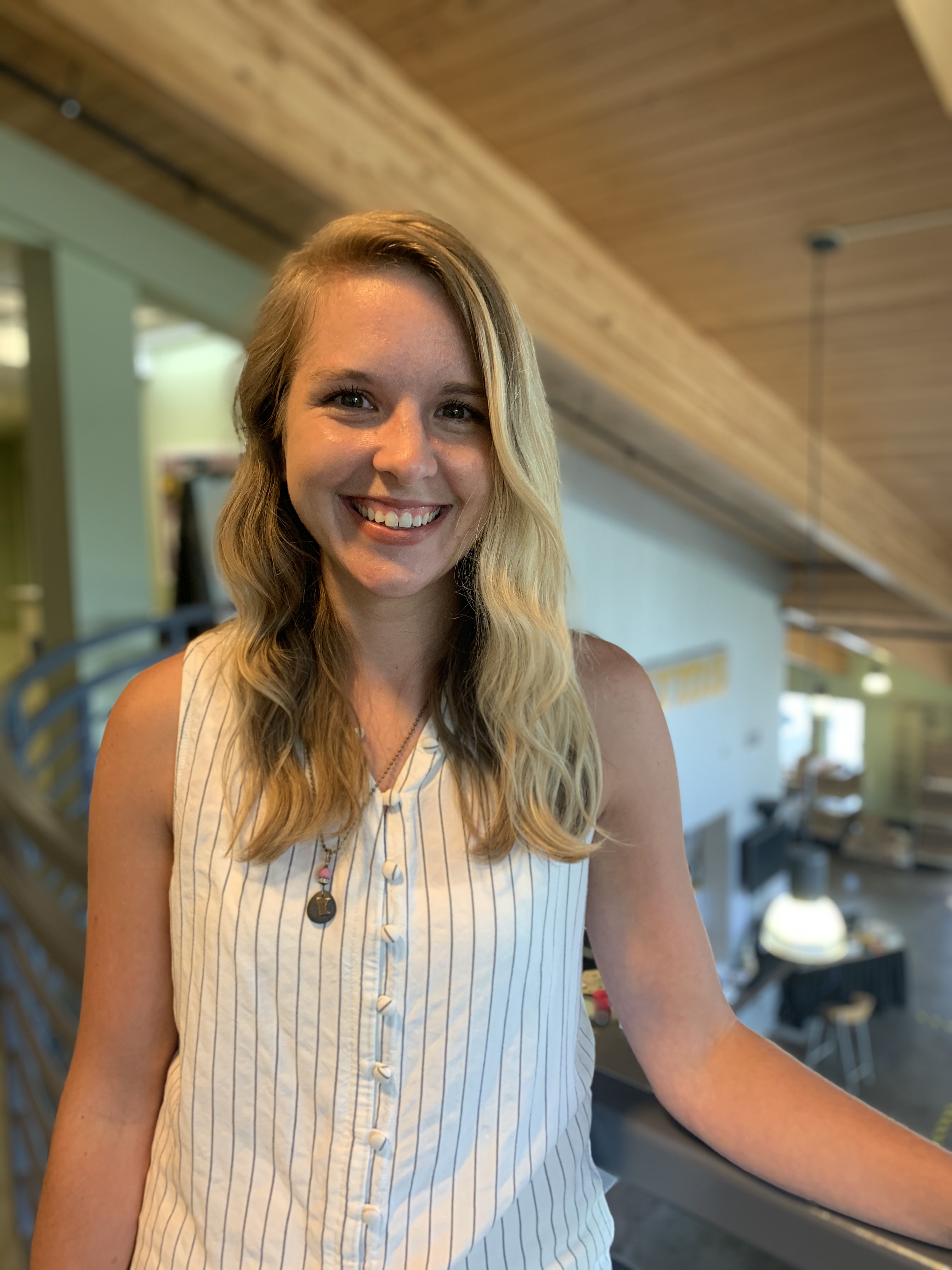 Hi everyone!
My name is Brianna Tobritzhofer. I'm the Nutrition Services Director for Open Arms and have been with the organization for 5 years. I'm excited to share a little about my background and career path with you!
Education Background:
I received my Bachelor's Degree in Nutrition and Dietetics from UW-Stout in 2013. From there, I moved on to Mount Mary University (MMU), which was where I completed my dietetic internship. The MMU internship had a health promotion and disease prevention emphasis, which was where my passion for community nutrition and public health stemmed from. My internship was also a combined master's program, so by the time I finished, I was halfway done with my master's degree. The degree was mostly focused on nutrition & dietetics, but I was also able to take some courses on professional writing and communications.
Once I completed my internship, I took a break from school for a while to start getting some work experience. I ended up finishing the master's degree in Nutrition & Dietetics in 2017. I was lucky to be able to work on finishing the program while I was still part-time at Open Arms in 2016-2017!
Why did you decide you wanted to become an RD/DTR?
I don't have a clear-cut answer to where my passion for nutrition came from. When I was a kid, I had some health issues that warranted the need to see a dietitian. Since then, I always had an interest in how food impacts the body but I never thought about pursuing a degree in nutrition until later on. I started as a psychology major at UW-Stout but figured out that wasn't for me halfway through my freshman year. Through talking with my advisor, I found out about Stout's fantastic dietetics program. I stepped into my "Intro to Nutrition" course my second semester of college and never looked back.
Provide a brief description of your career path:
My career path so far has given me such a great variety of experience. The first job I had out of my internship was working for a corporate wellness company. Through this position, I had the opportunity to provide health advising and coaching to individuals who were in wellness programs through their employers. Following that, I moved on to work in a clinical-focused position for a pharmaceutical company, where I was responsible for getting Medicare approval for patients' tube feeding supplies.
In 2016, I was in search of a role that would allow me to make more of a difference in the community. Open Arms was seeking a registered dietitian, and I knew it was exactly the job that I wanted at the time. The mission, vision and values aligned with my own, and I started working for them in April 2016. At that time, there was only one RD position, and it was a part-time role. I became full-time in 2018, which was also the year that we started to add more RDs to the team. It has been such a joy and an honor to watch the organization and the nutrition program grow over the last few years!
In addition to my work at Open Arms, I also have a small business on the side where I provide freelance writing, communications/marketing and social media management services. I've had the opportunity to write for publications like Today's Dietitian Magazine, Healthline: Authority Nutrition, and various other websites. I am also the communications director for the board of the MN Academy of Nutrition & Dietetics and the associate editor for the Diabetes Practice Group (a sector of the Academy of Nutrition & Dietetics).
What does your role look like at Open Arms?
I oversee the operations of our nutrition department, which includes three other registered dietitians, a dietetic technician and various dietetic interns. The key programs that I manage include the planning of our medically tailored meals and our nutrition-counseling services, in addition to our Summer Meals Program and dietetic internship rotations. In my position, I do a lot of strategic planning to help grow, improve, and bring more awareness to our nutrition services. I'm also responsible for reporting on the outcomes and progress of our nutrition program to ensure we are meeting the goals of our healthcare contracts, grants and other measures.
What do you love about what you do:
One of my favorite parts of my job at Open Arms is that every day is different! On one day, I might be generating reports, and on another I am gathering content for our client newsletters, putting together a presentation about our nutrition program or brainstorming new ideas for our menus and recipes. I also love working with my team and watching our programs grow and improve every day. I love how collaborative that my job is and the fact that I get to work so closely with almost all of our departments. Another thing I love about my job is hearing client stories! We hear testimonials from our clients every single day about the positive impact that our meals and nutrition services have on their lives and health. It's very rewarding, and I love the connections that we are able to make with clients.
What do you think is the future of nutrition and dietetics?
The future is bright for the field of nutrition and dietetics! One thing that I can see happening is having the work of registered dietitians and medically tailored meals incorporated into healthcare on a regular basis. When patients are discharged from the hospital or leave a medical appointment, they could leave with a prescription for any medications and medically tailored meals if they need them. Research is starting to bring the benefits of medically tailored meals to light. For this reason, more and more healthcare facilities will start to partner with organizations like Open Arms to provide meals and nutrition education for their patients.
Although there have been improvements in this area over the years, the nutrition field still has a long way to go when it comes to misinformation. There is a lot of false nutrition and health information on the internet, and I think more companies like food brands will start to realize the importance of having nutrition credibility behind their services. With this, I can see registered dietitians and DTRs being employed in more areas beyond hospitals and food service.