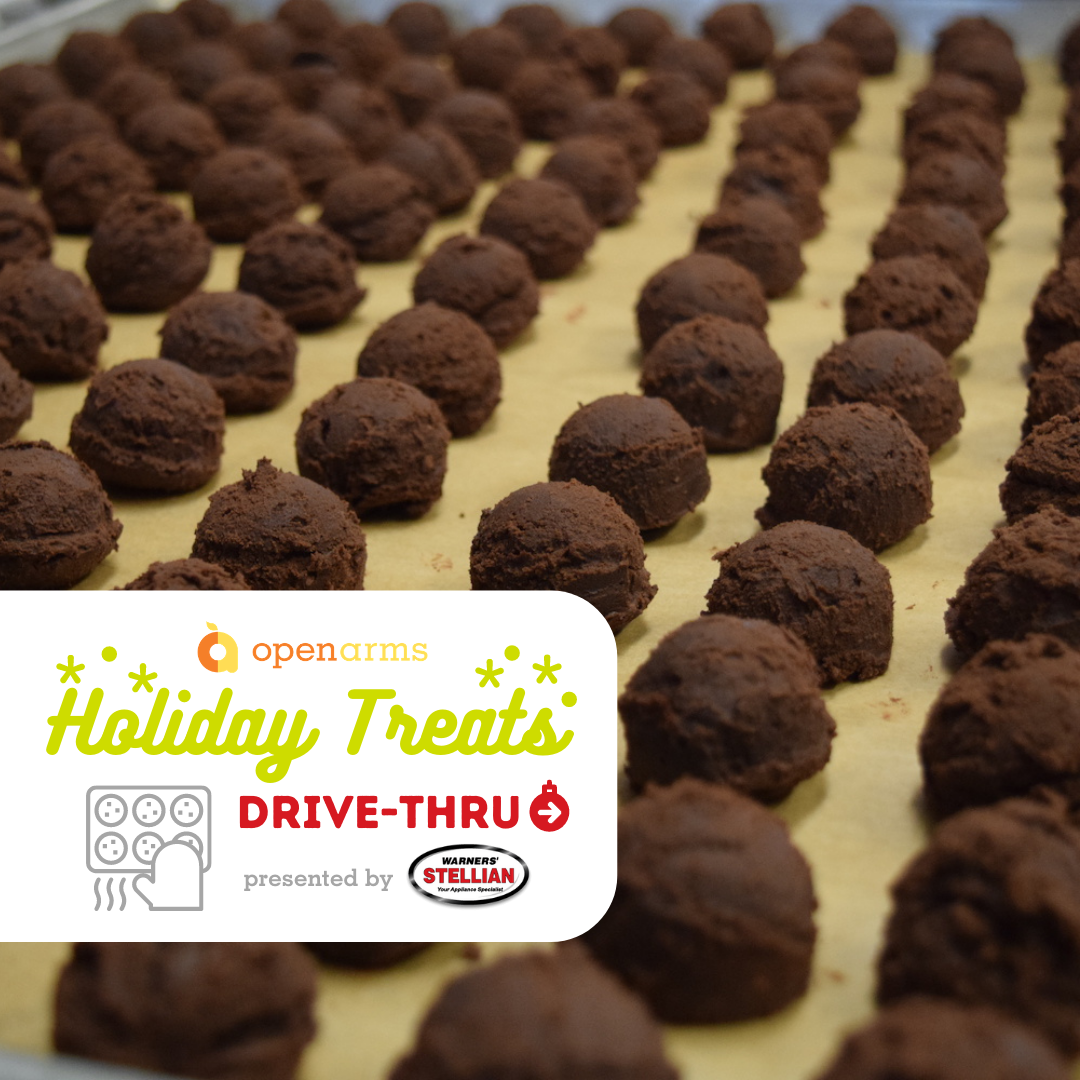 Each year during the holiday season, our bakers are hard at work making cookies, macarooons, and other sweets. This has been a challenging year for all of us, so we are especially thrilled to once again offer our signature sweets, which includes pints of cookie dough, sleeves of chocolate-dipped macaroons, and cookie-decorating kits — all of which will make perfect holiday gifts for loved ones. Best of all, proceeds directly support healthy, healing meals for our clients!
NOTE NEW SAFETY MEASURES: In an abundance of caution and to ensure the safety of our clients, staff, and volunteers during the COVID-19 pandemic, we will distribute our made-from-scratch treats in a DRIVE-THRU format! Our building and parking lot at 2500 Bloomington Avenue will be transformed into a beautiful, festive winter wonderful — our very own North Pole tucked away in South Minneapolis!
If possible, please pre-order your treats from our online marketplace! There you will have the option to select your pickup date. No stress or hassle, simply drive over to our building and enjoy the decorations.
We are very thankful to our friends at Warners' Stellian for sponsoring our Holiday Treats Drive-Thru and helping us spread holiday cheer to our supporters and clients this holiday season.
As a reminder, here is the full list of treats available during Holiday Treats Drive-Thru:
Cookie Dough by the pint: Chocolate Chip Sea Salt, Chocolate Chip, Peanut Butter, Gingerbread
4-Pack of Cookie Dough by the pint, in flavors listed above
One Dozen Chocolate-Dipped Macaroons (gluten-free, vegan)
Open Arms' newest fluffy warm, sherpa pull-overs (quarter-zip and full-zip) in oatmeal and marshmallow colors.
Open Arms' cozy 35th-anniversary hooded sweatshirts
Organic, handmade body products, including lip balm, especially made for Open Arms
Cookie Decorating Kits (one pint of OAM sugar cookie dough, frosting with piping bag, sprinkles, and a cookie stamp — courtesy of Minnesota-based Nordic Ware.
2021 Recipe Calendar, featuring six Open Arms chefs along with Gavin Kaysen (Spoon and Stable, Demi), Ann Kim (Young Joni, Pizzeria Lola), Justin Sutherland (Handsome Hog, Fitzgerald's), Yia Vang (Union Hmong Kitchen, Vinai), Jamie Malone (Grand Café, Eastside), and Anne Andrus (Honey + Rye Bakehouse).
---
Warm up the car and head over to our winter wonderland parking lot to pick up your holiday items at the drive-thru! Our pickup dates begin December 1st and run for various days throughout the month. Your holiday goodies order will be placed in the trunk of your car by one of our volunteers or staff—all contactless for your safety.
Pre-order your items before they sell out!